---
Attendance fees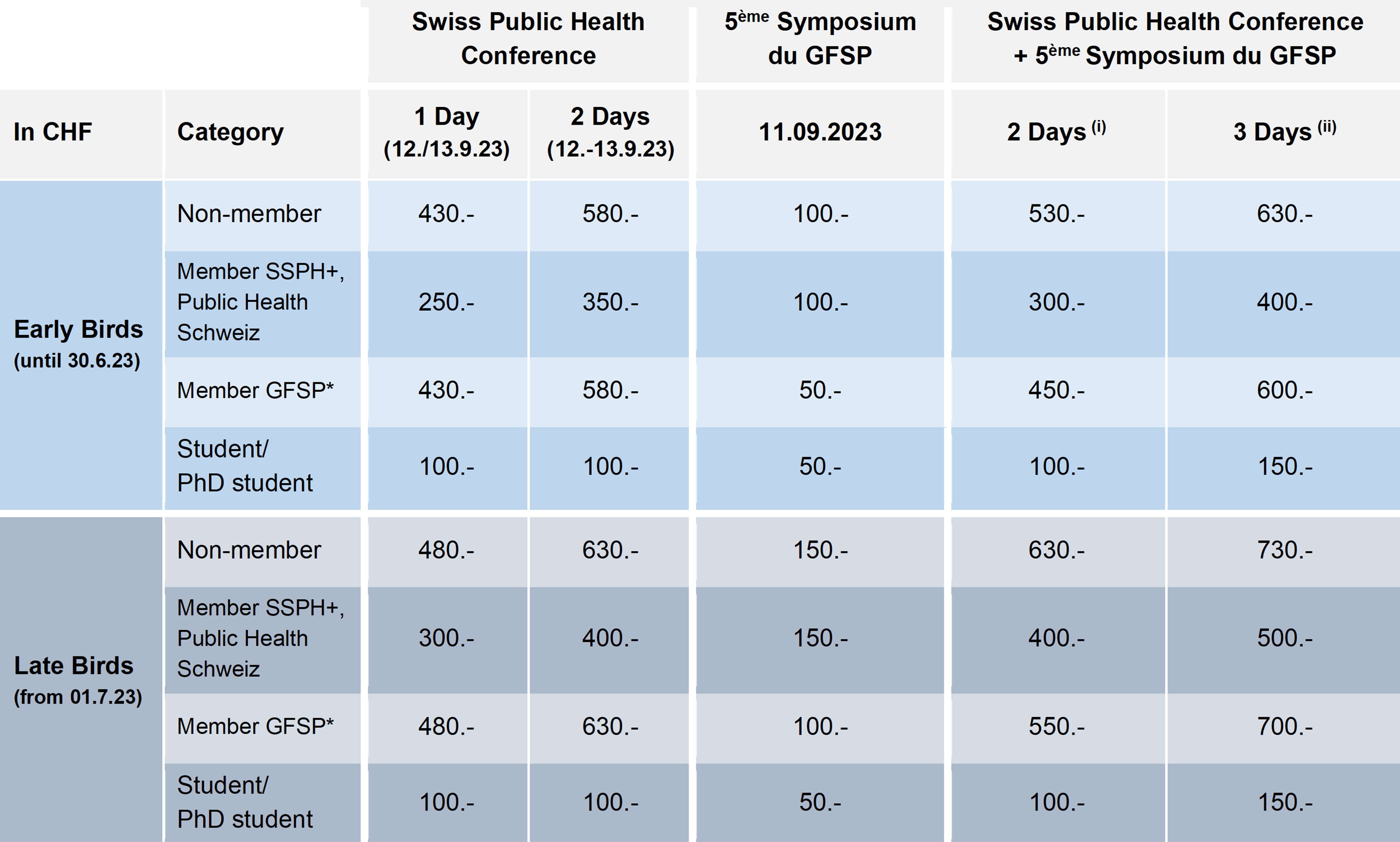 The participation fee includes:
Participation and conference documents for the respective conference day
Welcome coffee and refreshments during breaks
Water in front of the keynote session premises
Lunch 
Aperitif (11.09.2023 and 12.09.2023)
Dinner Swiss Public Health Conference (12.09.2023) - Registration no longer possible 
CHF 70 (Dinner 3-course menu, incl. water and coffee)
Hôtel de la Paix (5, Avenue Benjamin-Constant, 1003 LAUSANNE)

Event venue: 
AGORA (Fondation ISREC), Rue du Bugnon 25A, 1005 Lausanne
Registration: 
5ème Symposium du GFSP, 11  September 2023,  Lausanne - 
Registration closed
Swiss Public Health Conference, 12  - 13 September 2023, Lausanne -
sold out
---
Credits
The Swiss Public Health Conference is acquired by Swiss Public Health Doctors (SPHD) for 7 credits on 12.09.2023 and 6 credits on 13.09.2023.

---
Amendment and cancellation 
If the conference cannot be held on site due to Covid-19, it will be held online. In this case, participants will be informed in due course and the conference fees will be adjusted. Covid measures, if any, apply to on-site participation.
Registration is compulsory and payment is made by invoice.
Cancellation of registration must be made in writing. Double bookings or bookings, that are cancelled within 24h after the intial booking are free of charge. Cancellation of the registration till August 29, 2023, 50% of the conference fees will be refunded. After this date or in case of no-show, the invoice is due for payment and no refund is possible.
Adjustments and changes of address of already sent invoices as well as invoice splits will be charged with an additional administration fee of Fr. 20.- per order.

Bank charges for returned direct debits by bank shall generally be borne by the credit recipient